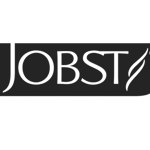 After launching the JOBST Defy Gravity campaign, our team wanted to take the work one step further. We created Irregular Bold - a bold, irregular font, for bold, irregular people.
A typeface is defined as "a set of type of one particular face and size". Its limbs; ascenders, descenders, arms and legs, are all consistent. Life with a venous or lymphatic condition is anything but. Life-changing conditions like Lymphedema, Lipedema and Varicose Veins affect the limbs of millions of people across the world, but remain largely misunderstood and misrepresented. JOBST, inventors of compression, wanted to change that by better representing the reality of life with a lymphatic or venous condition, even down to the finest detail; typography. To do this, they created a brand new fully functional font, Irregular Bold. 

People with lymphatic and venous conditions experience heaviness in their limbs, often with visible swelling, with unpredictable onsets. We applied this to our typeface in design and function. Irregular Bold features letters affected at random with one limb bigger than the others. You never know which limb of which letter will be affected, or by how much, until you type out the word. Just like being diagnosed with a lymphatic or venous condition. Watch your word morph in real-time as you type, before settling on a unique shape and size. Each letter has 3 different weights, inspired by the 3 levels of compression JOBST products offer. 

Rather than just treat the typography on the campaign on an individual basis, we worked with type foundry, Zetafonts, to create a typeface that could be applied to all assets, and represent the campaign's audience and talent in both form and function. The font went on to win a Silver Lions in Pharma Typography.
Interested in working together?